Gemma, James and Tristan, owners of Villa Rolo in Paradou , share their love of Provence !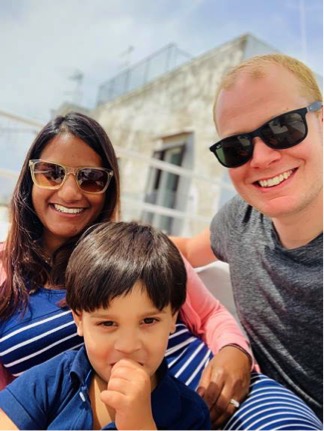 In 2015, Gemma and James bought villa ROLO as a second home. They live in London but they manage to escape their busy city life to come to holiday in Provence and enjoy the Provence Art of Living
Why did you decide on buying in Provence? 
A shared love of food, a soft spot for good wine and a long held dream to have a little slice of the good life in the sun surrounded by spectacular scenery and picture postcard villages.
What are your 'must see' and 'must do's' in the area?  
We would have to say a combination of town and countryside to get a real taste of the region and enjoy a holiday in Provence  to appreciate the areas nature head to the Baux plateaux and enjoy a little tour and tasting at one of the vineyards followed by dinner in one of the citadels restaurants with a view to watch the sun set over the Alpilles, for those more adventurous a wonder round the caves is good fun as well.
To sample the regions great villages we would suggest to follow the markets, Eygalieres' Friday market is a great spot to pick up some local knickknacks and people watch over lunch in its perfectly provincial setting, or head to St Remy on Wednesdays to pick up those chic Provence mementoes and see this great little town in full flow.
A restaurant you recommend?
We are spoilt for choice in the area, Bistro du Paradou deserves a mention simply for its wonderfully wholesome Provence experience, but one place we have recently stumbled upon and can't get enough of is Maison Drouot in Maussane. Not only is this place a short walk from the villa, it is simply faultless. It's a small intimate venue (make sure you book) that serves beautifully refined and exciting regional food that looks like its jumped straight out of Instagram. 
A souvenir to take home?
If you only take one thing back home with you, make sure it's a bottle of the local Olive Oil.
What do you like about your villa?
 It's lovely and peaceful with abundant outdoor living space on both sides of the property (gives you the opportunity to escape the kids if you need some you time).
What do you like about the domain? 
It's very private and in a fantastic location to explore the region and have a perfect holiday in Provence. Away from the local highlights it's a simple drive to the Camargue and its beaches, the Roman ruins of Arles and Nimes or the striking towns of Avignon, Aix and Marseille. 
Your best memory so far of your time in villa Rolo
Living in the villa for a couple of months of Tristan's first year. Waking up to birds tweeting and the warm sun everyday with little to worry about other than which new restaurant to try for lunch will always remain a special time and memory for us.
Bistrot du Paradou
57 avenue de la Vallée-des-Baux 13520 Paradou
Phone:+33  (0)4 90 54 32 70
Maison DROUOT
18, impasse Michel Durand
13520 Maussane-les-Alpilles (Go directly to parking 30, rue Simon Barbier)
Phone : +33 (0)6 61 07 38 54
www.maisondrouot.com